One of the most prominent characteristics of KALEKALIP, which had broken new ground in Turkey since 1987 when it entered the defense industry, is that it can quickly transform user requirements into new products by adding new features to existing products. Since its establishment, KALEKALIP has been meeting users' requirements with state- of-the-art products that are innovatively designed and manufactured using the strictest engineering criteria according to NATO military standards and the latest technology materials. We present our special interview with KALEKALIP General Manager Selim EROL on the company's past and present, as well as Turkey's first and only domestic and national 5.56x45mm Light Machine Gun KMG556, whose qualification process has just been completed and will be delivered to the Turkish Land Forces, Gendarmerie General Command, and General Directorate of Security by the beginning of 2022.
Defence Turkey: Can we start our interview with a brief introduction of KALEKALIP, which was established in Istanbul in 1969 to produce molds, and the company's transition to the light weapons industry after utilizing its precision molding capabilities in the production of molds for parts used in the G3 infantry rifle?
Selim EROL: As you have stated, KALEKALIP was established in Istanbul in 1969 to produce molds used to produce ceramic floor and wall tiles. In the 1970s, KALEKALIP utilized its precision molding capabilities in the production of molds for parts used in the G3 infantry rifle. In the Euro Stinger Project between 1980-2000, KALEKALIP (joined the project in 1987) carried out the guidance section assembly, tail section assembly, booster engine assembly, grip stock assembly, and production of other miscellaneous parts, which constitute 25% of the missile system. In this way, KALEKALIP improved its system production, testing, and integration capabilities by participating in the Euro Stinger Project. KALEKALIP carried out the design, qualification process, and production of Turkey's first 40mm Automatic Grenade Launcher (OBA-KAGL40) with its own resources following the embargo in 2001. KALEKALIP, which started to develop .308 .338 caliber sniper rifles in 2007, participated in the MPT-76 National Infantry Rifle Project in 2009, and KALEKALIP engineers played an important role in the design process.
Today, our product range consists of 5.56mm and 7.62mm KCR Infantry Rifle Family, KSR50 12.7mm (.50 BMG) Bolt Action Sniper Rifle, KSR338 .338 Lapua Magnum Bolt Action Sniper Rifle, KMR762 7.62mm (.308) Designated Marksman Rifle (DMR), 5.56mm and 7.62mm KMG556 and KMG762
Machine Gun Family and the 40mm Automatic Grenade Launcher (OBA- KAGL40) and Under Barrel Grenade Launcher KGL40 as well as the accessories for these products.
Defence Turkey: What can you tell us about KALEKALIP's current organizational structure, employees, performance, and turnover in 2021, and expectations and targets for 2022?
Selim EROL: KALEKALIP has more than 500 employees, including 150 white-collar workers. By the end of 2021, we will have increased our turnover by 49.8% on a US$ basis compared to the previous year. In 2022, we aim to grow by 19% on a US$ basis, compared to 2021.
Defence Turkey: Could you give information about the current i n f r a s t r u c t u r e o f KALEKALIP's production facilities? Can we get an assessment of the production capacity and capability and the technologies used?
Selim EROL: We can manufacture all weapon systems from the raw material to the tested final product in an integrated manner under one roof thanks to our design, engineering, machining, heat treatment, coating, destructiv e/ non- destructive testing, and assembly capabilities in our production facilities. We build our design, production, and product commissioning processes completely according to international defense, aerospace, and NATO standards. At this point, we would like to emphasize that we have been using the experience and processing capabilities we have gained in international defense projects in the past to produce weapon systems.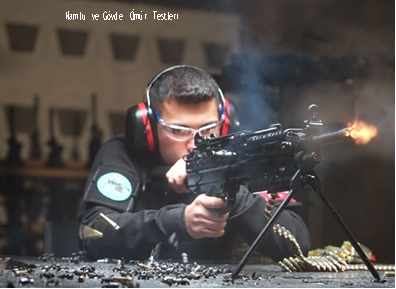 Defence Turkey: KALEKALIP developed Turkey' s first 40mm Automatic Grenade Launcher (OBA- KAGL40) in 2005 and was involved in the design process of Turkey's first locally designed and manufactured National Infantry Rifle (MPT-76) as the Main Sub-contractor in 2009. Can we get information about your company's light weapon product range?
Selim EROL: Following the decision of the SSB and MKE, KALEKALIP was selected as the most suitable Main Subcontractor for MPT-76 design and production. The two companies, MKE and KALEKALIP, worked together as MKE Main Contractor and KALEKALIP as Main Sub-contractor in all processes, successfully creating the MPT-76's Technical Information Package and carrying the project to serial production. Our products in our Light Weapons product range are:
56mm x 45 Infantry Rifle KCR556, 16", 14,5", 11" and 7.5" barrel options
62mm x 39 Infantry Rifle KCR739, 16", 14,5", 11" and 7.5" barrel options
62mm x 51 Infantry Rifle KCR762, 16", 14,5" and 12,5" barrel options
62mm x 51 and .308 Win. Designated Marksman Rifle KMR762
56mm x 45 Light Machine Gun KMG556
62mm x 51 Light Machine Gun KMG762
7mm x 99 and .50 BMG Bolt Action Sniper Rifle KSR50, 27" and 29" barrel options
.338 Caliber Bolt Action Sniper Rifle KSR338
40mm x 53 Automatic Grenade Launcher KAGL40
40mm x 46 Under Barrel Grenade Launcher KGL40
Defence Turkey: What can you tell us about the KCR (KALEKALIP Combat Rifle) product family that you introduced to the market in 2015, including 5.56mm and 7.62mm models and the deliveries completed in the past years?
Selim EROL: More than 40,000 KCR556 and KCR762 products have been delivered, and the KCR series rifles are actively used in the field by both our Armed Forces and Security Forces, as well as foreign militaries. Thanks to the continuous improvements we made in our design and production processes, we completed numerous deliveries in 2021 with zero errors during the acceptance tests. According to the feedback we received from domestic and international users, KCR's show superior performance and durability on the battlefield. The success of the KALEKALIP KCR family make us very proud. The KCR556 7.5", 11" and 14.5" products became Turkey's first domestic 5.56mm infantry rifles at theater. The KCR556 7.5" created a new product segment in Turkey called PDW (Personnel Defense Weapon), which is followed by our competitors as well. The range of the 5.56mm KCR556, which can use 20 and 30 round magazines,varies according to the barrel. The barrel life of the weapon is guaranteed for 15,000 rounds, and the barrel life has been proven repeatedly with the tests carried out. In the past months, we have delivered thousands of rifles to 3 different users each. These deliveries are carried out after verifying the barrel life (15,000 rounds) with 2 randomly selected guns from the package. During these acceptances in the last months, all the barrel life tests were completed with zero errors, in other words, without encountering any jamming or stop pages. This difference in quality also brings user satisfaction.
The KCR556 7.5" barrel version, which we believe will replace the 9mm Submachine Guns in the Turkish Armed Forces and Turkish National Police inventory, is actively used by various units of the Gendarmerie General Command, especially in urban operations. Classified as a Personal Defense Weapon (PDW) with an effective range of 200 meters, The KCR556 has a rate of 800-1,000 rounds per minute and weighs approximately 2.850 kg.

Defence Turkey: Can you give information about the deliveries you have made so far and the feedback you have received from the userwithin the scope of the MPT-76 Project?
Selim EROL: All the MPT-76 deliveries to the Gendarmerie General Command were carried out successfully. We did not receive any negative feedback from the field. Built on the experience from product development in military standards, our processes enable us to provide higher quality products with precision firing capability. This applies to all our products. As you are aware, we do our best to get positive feedback from our users and the field. The work of KALEKALIP's Integrated Logistics Support (ILS) team, which provides after- sales support, received full marks from our users.
Defence Turkey: What can you say about KALEKALIP'spositioninthe domestic market? What are the strong points of KALEKALIP products? Can you enlighten our readers about the capabilities and advantages that distinguish the company from its competitors in the market?
Selim EROL: KALEKALIP products are manufactured under the strictest engineering criteria in terms of reliability, durability, and safety in accordance with NATO military standards. Thanks to this advantage, we can quickly meet the military criteria and tactical requirements of both our country and international customers.
In addition, we are constantly improving the current weapons in our inventory in line with user requirements, with our young and dynamic R&D team, and the continuous feedback we receive from our users in the field. We also use our same capabilities to develop new products by following the trends in the world.
Defence Turkey: Could you share some information about KALEKALIP'sposition in the international market, itscompetitive power, and, if any, its current export projects/activities?
Selim EROL: Participating in various tenders in more than 20 different countries, KALEKALIP has been competing with the world's leading companies that have been designing and producing lightweapons for decades. KALEKALIP stands out with its competitive power and quality in the tenders it enters. So far, there is either an agreement in force or the deliveries have been completed in 4 different countries.
We continue our efforts to make a place for ourselves in the market among the world-renowned companies of the sector with our products in the high-qualitysegment, which have been produced and tested according to NATO standards and have proven themselves in the field with a guaranteed barrel life of 15,000 rounds.
DefenceTurkey: KALEKALIP qualified Turkey's first and only domestic and national 5.56x45mm Light Machine Gun KMG556 last September. Could you briefly introduc KMG556 to our readers? When did the development process begin, and how long did it take?
Selim EROL: It took us three years to develop this product from scratch, which has been produced for a long time by the manufacturers of only a few countries in the world. With KGM556, we developed a product that our security forces needed but had difficulties in procuring, with our own resources and R&D team. As a result, we have put Turkey's name on the list ofcountries that produce this kind of weapon. In this process, we tried to meet the needs of all our forces with a single product by taking into account the demands ofthe Land Forces, Gendarmerie, and Security General Directorate units and the feedback from the field. After successfully conducting 34 different NATO standard tests and firing more than 300,000 rounds, we completed the qualification process in September 2021 and reached the serial production stage.
| | |
| --- | --- |
| | |
Defence Turkey: What are the prominent features of the KMG556, whose developmentactivitiesyou have carried out with your own R&D team and own resources? Does it have an adjustable rate of fire? Can you give information about the barrel life of the KMG556? Can it be used with STANAG 4179 compatible magazines, other than the linked ammunition, likethesimilar weapons used by foreign armies?
Selim EROL: The KMG556 is an open-bolt light machine gun with a long-stroke gas piston system. KMG556 has 2 different versions offering 16" and 18" barrels. The 16" barrel version weighs 7.8 kg and has an effective range of 600m (point target) to 800m (area target). The weapon has a belt feed mechanism loaded from the side. Since belt/strip- loaded systems are simpler and more reliable, STANAG compatible magazines are not preferred. The KMG556 can be used with 50, 100, or 200 round linked ammunition boxes. One of the most important features of the KMG556 is its barrel. The barrel was designed by KALEKALIP, and all production, including barrel forging and chrome plating processes, is carried out by KALEKALIP. I want to emphasize once again that the domestic barrel has a guaranteed 15,000 rounds of service life, and it has successfully passed the qualification test.
Defence Turkey: KALEKALIP also continues the development of the KMG762 Crew-Served Machine Gun, a member of the KMG Family. Could you enlighten our readers about the KMG762? When is it expected to be ready?
Selim EROL: The KMG762 will have a similar operating mechanism to the KMG556 but will be much lighter and has superior performance than its counterparts. There is currently no domestic equivalent of the KMG762
Defence Turkey: The 5.56x45mm KMG556, which is planned to have a barrel life of 15,000 rounds and a service life of 50,000 rounds, will weigh 7.8kg, while the 7.62x51mm KMG762 will weigh 8kg. How do you achieve this lightening without compromising on durability requirements? Can we get information about the technologies used?
Selim EROL: Our R&D department has innovatively designed the KMG762 using state- of-the-art raw materials according to the design criteria and military standards that follow up-to- date military technologies. The designs are verified by testing and analyzing in a virtual environment using special simulation software. After confirming that the lightened weapon does not deviate from the performance requirements with the analyzes and tests, we move on to the prototype stage.
Defence Turkey: What can you say about the 12.7x99mm KSR50 Bolt Action Sniper Rifle and the 7.62x51mm KMR762 Designated Marksman Rifle (DMR) that you exhibited at the IDEF '21, 15th International Defense Industry Fair this year? Is the testing process still ongoing? Can you inform us about the feedback you have received from the field?
Selim EROL: KALEKALIP, a pioneer in Turkey in the field of light weapons since the 1970s, has produced Turkey's first and only domestic and national 12.7x99mm NATO/.50 BMG sniper rifle, the KSR50 A1 entered the Turkish Armed Forces (TAF) inventory in 2018, the KSR50 A1 demonstrates outstanding success and performance in the field. The KSR50 A1 is used in high numbers in the inventory of Land Forces Command (KKK), Gendarmerie General Command (JGnK), Police Special Operations (PÖH), and Special Forces Command (ÖKK). The KSR50 A1 version weighs 12.6kg, and after feedback from the user for a lighter rifle, the composite barrel KSR50 A2 weighing 10.9kg was developed. The new barrel, which is manufactured by wrapping a thinned steel barrel core with composite material, is the first and only one in Turkey and produced by only a handful of companies in the world.
The new composite barrel of the KSR50 A2, which has been qualified and planned to enter mass production soon, has a titanium muzzle brake. While lightening the weapon, we aimed not to lose any of its perf ormanc e . T he composite barrel not only reduces weight but also shortens the shooter's time to find the target when switching from the first target to the second target. Another advantage of using a composite barrel is that it reduces the mirage effect (optical phenomenon from the barrel heat). The composite barrel also enables more steady aiming and reduces the muzzle sway. The composite barrel and titanium muzzle brake on the KSR50 A2 got full marks from the users. KALEKALIP has also developed a muzzle brake for the KMR762, similar to the one on the KSR50 12.7mm Sniper Rifle.
The KMR762 Semi- Automatic Designated Marksman Rifle is available in two versions, 18" and 20". The suppressor on the KMR762 was completely designed by KALEKALIP engineers and produced in KALEKALIP facilities. The guaranteed hit accuracy of the KMR762 is 1.5 MOA at 800m. After the weapon entered the service, the KMR762 A2 version was developed with feedback from the users. In the KMR762 A2 version, weapon ergonomics have been improved, user-specific stock designs have been introduced. The KMR762 A2 version was introduced at IDEF '21. There is also interest in the KMR762 A2 from abroad, and we plan to make its first overseas sale in 2021.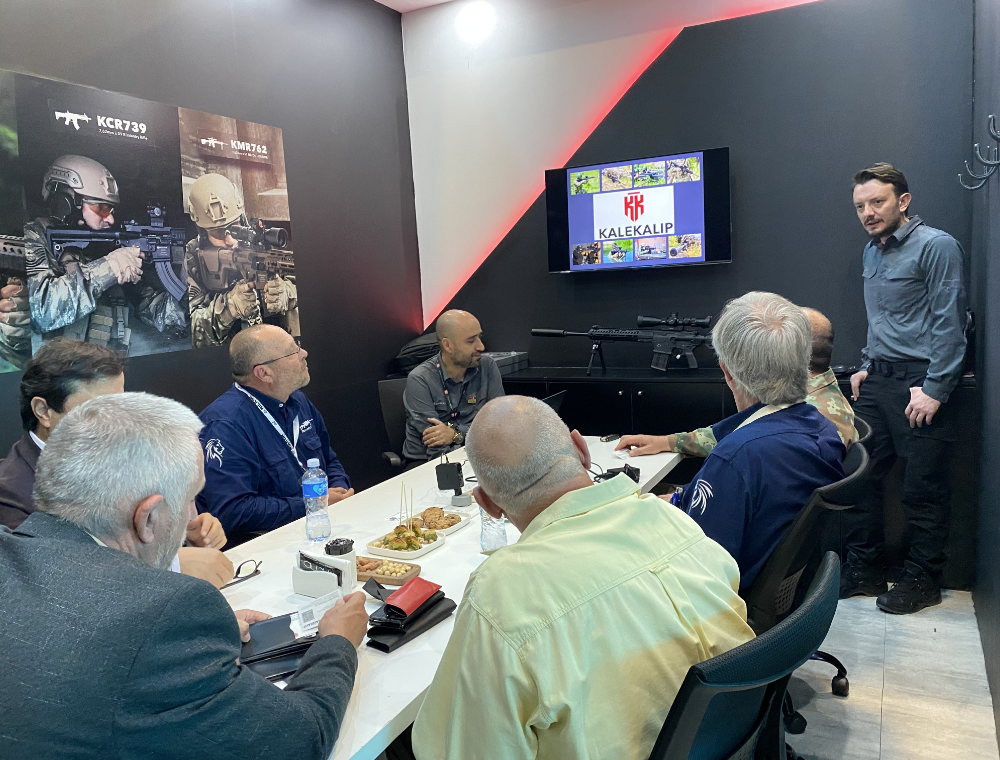 Defence Turkey: Could you give some information about the silencers/suppressors you introduced at IDEF '21? Did you start de v eloping these products after requests from users? What can you say about the testing process and the feedback from the field? Do you plan to expand your product range in this area? Can you give information about the product family?
Selim EROL: KALEKALIP's R&D team has the capability to design and qualify critical accessories such as suppressors that were only supplied from abroad until recently. In this context, the R&D team designed and qualified suppressors with different features for the KMR, KCR and KMG families in 5.56mm and 7.62mm calibers. Domestic and international deliveries will be made soon for these suppressors, which have indigenous designs.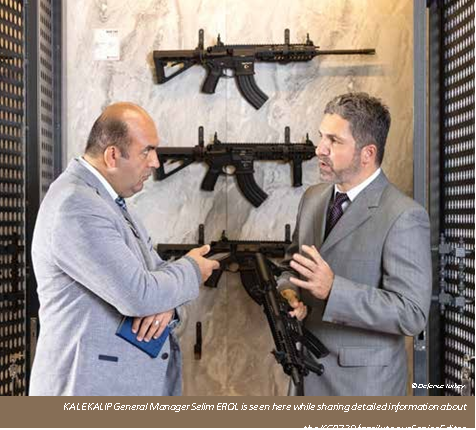 Defence Turkey: Could you summarize for our readers the main differences between a silencer and a suppressor and the capabilities of KALEKALIP in this regard?
Selim EROL: Suppressors designed by KALEKALIP are also the same products as silencers. These products reduce muzzle flash and acoustic intensity. They are called suppressors or silencers according to the type of bullet used. Suppressors also act as silencers since they significantly reduce the acoustic intensity when used with subsonic bullets, with less gunpowder and, therefore, slower muzzle velocity. When used with conventional/supersonic ammunition, suppressors also decrease the sound level, but not as much as the subsonic bullet. The main purpose of these products is not to disclose the location of the users and compromise the secrecy during special missions. Suppressor/ Silencers can be used with bolt-action, semi- automatic and rapid-fire weapons. KALEKALIP produces suppressor solutions for all these weapon types.
Defence Turkey: What can you tell us about the KCR739 product family, which is the only one in Turkey and mainly designed for the export market?
Selim EROL: KALEKALIP has developed the KCR739 family for users with 7.62x39mm Russian ammunition in their inventory and wants a modern infantry rifle in NATO standards. Weapons using 7.62x39mm Russian ammunition have a Direct Impingement operating system, which directs the gases from a fired cartridge into the bolt carrier to cycle the action. The main disadvantage of direct impingement is that the firearm's firing mechanism fouls up and jams more quickly than it would with a piston system.Also,weapons in this category don't use free-floating barrels, which reduces their accuracy KALEKALIP has developed the KCR739 family as a weapon system that overcomes the drawbacks of similar products on the market and has offered to its users. The KCR739 is a family of infantry rifles, including 7.5", 11", 14.5", and 16" barrel versions. It can fire 7.62x39mm Russian ammunition and has a free-floating barrel and a short-stroke gas piston system with a rotating bolt carrier group. The 16" barrel version of the KCR739 Infantry Rifle weighs 3,450kg and has an effective range of 450m. Thanks to its excellent compatibility with the KCR556, the upper receiver and magazines of the two guns can be quickly disassembled and replaced in the field. There is also a serious interest in KCR739 from abroad. In this context, we are continuing negotiations with the countries, we are at the contract stage.
Defence Turkey: In 2006, you developed Turkey's first 40mm Automatic Grenade Launcher (OBA- KAGL40) similar to the MK-19. What can you say about the development process and deliveries of the OBA-KAGL40?
Selim EROL: Breaking new ground in its history, KALEKALIP took part in the project group that developed Turkey's first 40mm Automatic Grenade Launcher OBA-KAGL40 in 2006, and the weapon entered service in the same year. Due to the arms embargo at the time, the sale of this weapons type to Turkey was prohibited. In the following years, KALEKALIP had another supplier produce the barrel of its own design and introduced the weapon available as a complete product. There are currently more than 1,800 KALEKALIP production OBA-KAGL40 systems in service, and the weapon still receives significant demand from both domestic and foreign customers. The OBA- KAGL40, which has an effective range of 1,500 meters, can shoot 2,000 meters and beyond with the indirect firing principle. KALEKALIP also delivered a large number of OBA- KAGL40s to ASELSAN to be used on SARP Remote Controlled Weapon Station (RCWS).
Defence Turkey: Could you share your vision, goals, and expectations for the next 10 years of KALEKALIP with our readers?
Selim EROL: We aim to develop innovative products that serve the needs of our security forces at the highest level in the first stage, using the superior design and production capabilities we have acquired in the field of light weapons. By closely following the new developments in the light weapons industry in the world, we continue to work on new products that will be pioneers and leaders in their segment. We are particularly focused on new concepts that will provide tactical advantages to users in the field.
In parallel, we are working with all our might to raise our flag higher and increase our market share, especially in the foreign markets. We aim to reach the high-quality and value-added products segment among world- renowned manufacturers.
Furthermore, we aim to offer comprehensive packages to our users by expanding our accessory product range for light weapons, both through collaborations and our own studies.
Defence Turkey: Is there anything you would like to add as a message to our readers?
Selim EROL: KALEKALIP's journey in the field of light weapons is proof that world-class military engineering products can be produced in Turkey and sold to foreign countries. This journey has shown us that when we believe in ourselves and our team and work hard, we can develop domestic and national products that will rival global competitors that have been in the industry for a very long time.
As the KALEKALIP team, we perform our duty with the awareness that every product we produce is a tool that will contribute to our security forces doing their job in the best way possible, and we will continue to design and produce high-quality products that will be used by our security forces and elite military units abroad.